2018 Used Caterpillar 910M Wheel Loader
A wide squire type large bucket work with the help of two arms like mechanism raised from a tractor type vehicle running on the wheels to scoop up earth, sand, snow, garbage and other heavy materials is recognized as Wheel Loader. The wheel loader helps to handle the loads with greater ease and control in an efficient manner. The versatile operations are performed with the help of multiple tools can be attached to this vehicular machine.
While operating the Caterpillar 910M optimized Z-Bar Loader you can handle the loads with greater capability. The Cat Bucket and high visibility Pallet Forks together help to enhance the productivity. Machines electro-hydraulic control system powers the operator to adjust the responsiveness as per work requirement. The drivetrain can also be adjusted between smooth and aggressive shifting by pushing a button.
A soft touch keypad allow the operator to control the various functions with greater ease and more efficiently. Enhanced engine power, greater than usual breakout forces and high full turn load capability are most prominent features of this 910M series Caterpillar wheel loader.
Offer to Sell CAT 910M Wheel Loader
Stock No:                                 72451
Make / Model:                       Caterpillar / 910M Wheel Loader
Year:                                         2018
Colour:                                     Yellow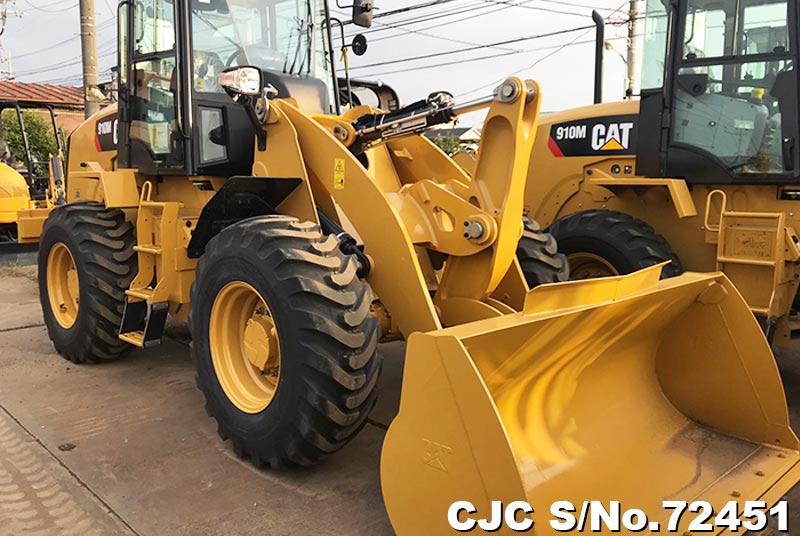 Contact:
Please feel free to contact the sales officer at Car Junction Company for further investigations.