Heavy Machinery Sale at Discounted Prices
Car Junction offers at throwaway prices Cranes, Excavators, Wheel Loaders, and Bulldozer of renowned brands like Maeda, Kobelco, Caterpillar, Kato, Komatsu, Isuzu and IHI. The stocks are ready for shipment to your desired location.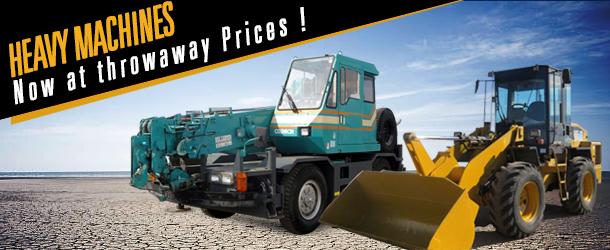 1996 Maeda MC-355c Crane

US $ 22,000 Now 18,000

US $ 32,000 Now 27,000

1999 Caterpillar 308B Excavator

US $ 20,500 Now 17,500

2012 Kobelco SK200 Excavator

US $ 85,000 Now 77,000

Kato HD-1023 Excavator

US $ 52,000 Now 47,000

1997 IHI 30Z Excavator

US $ 10,000 Now 8,000
Cranes and Excavators
Maeda MC-355C Crane 3.3 Ton Crane, Kobelco RK70 7 Ton Crane, Caterpillar 308B Excavator,
Kobelco SK200 3 Ton Excavator, Kato HD-1023 Excavator, and IHI 30Z Excavator.
Wheel Loader, Bulldozer and Crane Truck
2010 Caterpillar 910H Wheel Loader, 1989 Komatsu WA100 Wheel Loader, Komatsu D20Q Bulldozer and 1994 Isuzu Elf Blue Manual 4.3L Crane Truck.
Contact Car Junction 
machinery.carjunction.com
[email protected]
Whatsapp +81 90 2732 3239
About Car Junction
Car Junction is one of the leading Cars, Machinery, Auto Parts and agricultural tractors exporters based in Japan. We also deal in heavy and light Construction / Earthmoving and other machinery like a different type of cranes, forklifts, wheeled and tracked excavators, mini excavators, backhoe loaders, wheel loaders, motor graders, concrete mixers, transit concrete mixers, road rollers and other machinery.
We deal in both brand new and used vehicles. All renowned brands as Toyota, Nissan, Mitsubishi, Honda, Mazda and Suzuki are always available in our stock. We also offer other American and European brands like Mercedes, BMW, Audi, Ford and Volkswagen.
Car Junction offers a variety of commercial vehicles like flatbed trucks, dump trucks, crane trucks, long body and short body trucks, garbage trucks, trailers, minibuses, intercity buses, modern buses, cargo vans and mini trucks.
Our staff of vehicle experts selects vehicles without defect for you and we try our level best that our clients get the vehicles in excellent condition. We supply vehicles to car dealers and other large companies who like transaction in bulk. We are expert car supplier to diplomats and we have supplied vehicles to many embassies worldwide.
If you need any vehicle or machinery please contact us and our staff of expert Customer Service Agents will help you through the buying process.